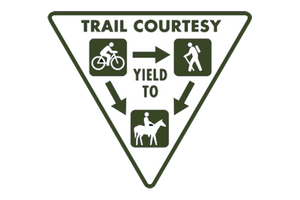 Trail Etiquette

Common Courtesy
Respect all trail restrictions and use only trails open to your mode of transportation.
Be considerate of others on the trail or path.
When traveling on shared-use trails, continually watch for other types of trail-user activities.
Slow down when sight lines are poor.
Keep speeds low around other trail-users.
Keep noise and dust down.
Keep your ears open – turn down the volume on earbuds or air pods. Listening to headphones or earbuds on full-blast can make it difficult to hear and communicate with other trail-users. In some areas, it is illegal to operate vehicles or bikes with both ears covered.
Keep pets under control. Some trails require dogs to be leashed. Be familiar with local rules.


Yielding
Yield the right-of-way to those passing you from behind or traveling uphill.
Motorized vehicles yield to mountain bikers, runners, hikers, and horses.
Mountain bikers yield to runners, hikers, and horses.
Runners and hikers yield to horses.

At all times, comply with Leave No Trace principles. Bring a suitable trash bag and leave no trash or recyclables.